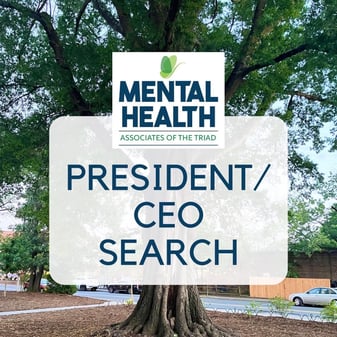 Published: May 19, 2023
Location: High Point, NC
Category: Administration
Job Type: Full-time
Salary Range: $85,000-$90,000 (Includes Benefit Package)
County: Inside Guilford County
Street Address: 910 Mill Avenue, High Point NC 27262
Apply for the position to this email address: info@mha-triad.org
Deadline for resume return: June 30, 2023
START DATE: October 1, 2023 (Training Period Included)
Description
Mental Health Associates of the Triad (MHA-T) is a nonprofit agency serving High Point and the Triad for 56 years. MHA-T is committed to the promotion of good mental health through quality service provision, advocacy for issues affecting the mentally ill and outreach to the community.
MHA-T is seeking a President with a strong leadership ability and strong business acumen; a person who is grounded to the present but excited to develop a vision for the future to expand serving the underserved population.
MHA-T has in place programs that served 2,000 clients across the Triad in 2022. The agency has an operating budget for FY 2022-2023 in excess of $800,000 and a staff of fourteen (14). Funding comes from United Way of Greater High Point, local foundations, individual donors, grants and revenue generated by fee-for- service.
Duties
The President is accountable to and is evaluated annually by the Board of Directors. He/she will collaborate with them to achieve good governance and financial oversight.
The President is responsible for the effective operation and strategic direction of the agency. Responsibilities include successful management of programs, staff, facilities and equipment; the maintenance of financial records, controls, budgets, long-range plans; fundraising via individual and institutional stakeholders and events, marketing and public relations.
The President serves the Board of Directors by assisting in the planning of regular board meetings and Executive Committee meetings and reporting on the activities of the organization, recommending new policies and making decisions regarding program needs and direction. The President oversees the CARF licensure records and the licensing review held every three years. The President is further responsible for maintaining all state and local standards for operation.
Qualifications
Visionary leadership
The President will reshape programs and services based on emerging mental health needs for adults in the Triad. The President will conduct regular system scans, identify gaps in services and develop a strong vision for how MHA-T can best fill those gaps (or partner with others to fill gaps) within an evolving system of care. This will require a leader who is skilled at taking managed risks to proactively meet the needs of adults with mental health challenges and/or substance abuse in our community. The new President must be responsive to the diverse cultural experiences and needs of the community and plan programs accordingly.
Ability to lead, manage and fund organizational growth
The President will need to be creative in seeking out new funding opportunities to sustain the agency and rebuild prioritized programs, especially in an increasingly competitive local funding environment. The President will need extensive grant writing and fundraising experience.
Ability to sustain strong current relationships and cultivate new
MHA-T has formed deep relationships over time with funding partners and individual donors who support the cause. As the Triad evolves and a new generation of leaders emerge in all sectors, it will be critical for the President to maintain and expand the circle of relationships and foster a diverse, inclusive and engaged culture.
Presentation skills
The President's passion for the work, the team and the community will need to shine through in public settings and private conversations to build upon the progress in years past. Specifically, the individual will be the community's primary storyteller and educator about breaking the stigma around mental health. The ideal candidate will be an effective public speaker.
Marketing and communications
The President will effectively communicate the mission and vision and needs of the organization to a broad audience. Expressing warmth, professionalism, understanding and care when communicating with stakeholders is vital, as is confidentiality in all interactions with clients.
Excellent Writing Skills
The President will be responsible for grant writing, reporting and a variety of other communications and must be able to write clearly and persuasively for a variety of audiences.
Comfort with financial metrics and processes
This includes budgeting, forecasting, profit and loss, reporting and audits. Record keeping according to federal, state and local funders and grant funders is required.
Education/Experience Requirements
Master's degree in Human Services or related area. Competence in accounting principles and other related business fields is essential.
Five+ (5+) years in Human Services position with either nonprofits or in the public sector.
Five (5) years direct care experience with mental ill consumers and three (3) years prior administrative experiences that involved fiscal responsibility at an agency level. Experience with developing and implementing budgets on an agency level is necessary.
Crisis intervention and risk assessment experience necessary.
Licensing Requirements: Must have obtained status of Qualified Mental Health Professional.